2 minutes, 52 seconds
After buying USB-C power adapter that didn't work out, I'd been on the hunt for a replacement. After getting a Chromebook for video chats and music (and curiosity :) which has USB-C charging, I had an extra need for cheap, portable chargers and other simple USB-C accessories.
All these devices were tested on either my ASUS Chromebook Flip C101PA-DB02 or my Dell XPS 13 9350 or both.
What I really wanted was to plug a single cord into my laptop and have it work with my external webcam, external speakers, external 4k monitor @60Hz, external wireless headset and USB3 gigabit NIC. In the end, for stability, I ended up going with two cables: one for power and DisplayPort and one USB3.0 for my USB3.0 hub with everything else. My laptop not crashing makes me be totally OK with the two cables ;)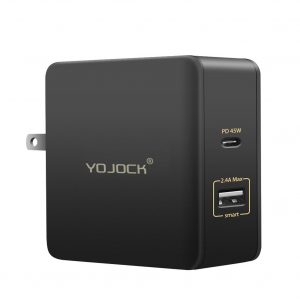 First up is a good, small travel charger with USB-C and USBA ports. It delivers the full 45W so it'll work nicely with your MacBook and Dell XPS 13. It'll work with your MacBook Pro, but not at the full rate as the stock charger. It's the Yojock YKJ USB-C PD Charger with 45W:
After that, if you want a charger that'll work at home (read: no folding plug), then this charger with attached cable is quite small and cheap. It's the Nekteck 45W USB-C charger. It only has USB-C and, beware, my XPS 13 9350 says it's only delivering 40W, but I've had no problems with it keeping my laptop charged even when it's powering an external 4k monitor, running 4 containers, a full IDE and twenty odd tabs in FireFox.
Then, in the non-power-adapter accessories:
These items I don't recommend as they didn't work as advertised with my ubuntu laptop;
To be clear, I am gathering the referral kickbacks from Amazon on these links, but I do use these products and wasn't paid for the positive review.
If you have questions, feel free to contact me or ask in the comments!