3 minutes, 53 seconds
Be sure to read my prior post about attending the APRICOT 2018 conference in Nepal before the trek!
Intro & Highlights
This was my first time trekking and my first time trekking in Nepal. While we had considered a more rigorous route of the Annapurna Base Camp (ABC), the max elevation of 4130m (13,400ft) had me concerned. I opted for a much more tame Poon Hill route, which tops out at 3210m (10,000ft) which was more my speed. In the end the elevation ended up being a non-issue. In fact, just about all my concerns were non issues ;)
We started on day 1 with celebrating Holi. At first we were reticent, but then joined the festivities by having the local kids do us up. It was lovely.
My favorite day for views was day 3. Poon Hill was clear for our pre-dawn hike and the sunrise and Annapurna mountains were breath taking. Bring money to pay for the entrance fee and hot drinks at the top of the hike! The rest of the day the mountain views kept us company and they were epic. Thanks Nepal!!
The rest of the trip was amazing. While you can feel modern amenities creeping in every town, the both benefit the towns folk and pull the "rural-ness" away from what you can tell was once a remote village. You know, the old man in me wants to have no tech when I hike/trek. I'm there to experience the place and nature, not check me email ;)
Farm animals where everywhere and it was a delight to see them. All the locals were nice, though some drove a harder bargain for their tea house prices. Check around a bit and don't settle for the first one.
Click any of the photos in this post to see the gallery! Note, you'll see pictures of my work conference too ;)
Finally, there was a really…oddly comforting I guess, moment when the cabi on the way to Pokhora put on "Like a Virgin". I loved it (it's the second clip in this video). Sorry I was too lazy to edit this video down, it's 3 min long:
Route
Based on this write up, among others, we ended up doing this route (all prices in US Dollars and are per person):
Day 1: Kathmandu -> Pokhora – 30 Minute Flight $250
Day 1: Pokhora -> Nayapul – 1.5 hour Taxi $30
Day 1: Nayapul -> Hile – 1 hour Jeep $30
Day 1: Hile -> Uleri – trek
Day 2: Uleri -> Ghorepani -> Poon Hill -> Ghorepani (day hike to Poon Hill after dropping packs ;)- trek
Day 3: Ghorepani -> Poon Hill -> Ghorepani -> Tadapani – trek
Day 4: Tadapani -> Taulung -> Chomrong -> Taulung -> Chinu/Jhinudanda – trek
Day 5: Chinu/Jhinudanda -> Tolka – trek
Day 5: Tolka -> Pokhora – 1 hour Jeep $15
Day 5: Pokhora -> Kathmandu – 30 Minute Flight paid for on first item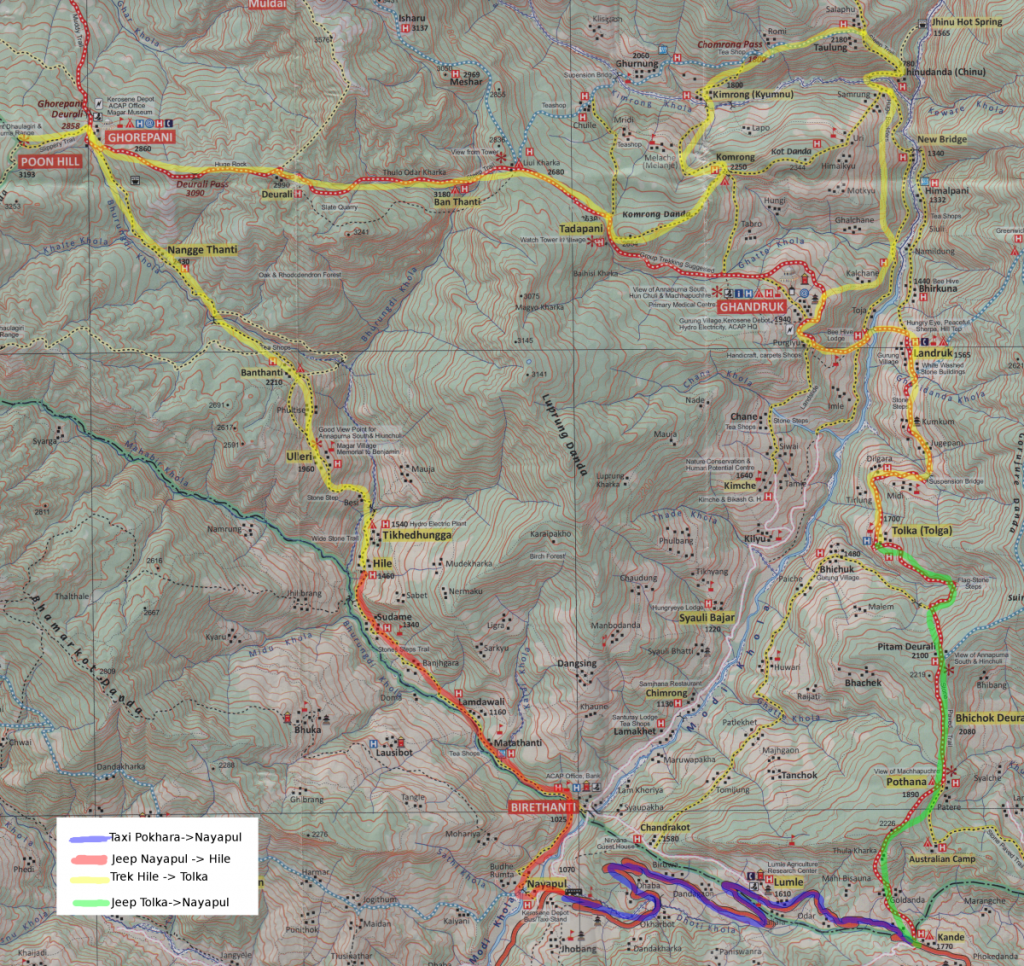 I strongly encourage you pick up a map in Kathmandu or Pokhora. They're cheap and really handy to have. We got this one which was readily available in map stores in Thamel.
Packing list
My pack was 9.5kg. I think if I didn't carry spare running sneakers, USB battery, as fully stocked first aid kit, and micro 4 3rds camera, I'd have been around 7.5 or 8. I have no regrets though! My list is taken (and culled) from wanderingsasquatch.com. The "two shirts, one for hiking, one for not" was really great. During the warmer months you could totally skip the sleeping bag to save some real weight. The tea houses all had blankets. While I took photos with my nice camera I mentioned above, I actually was fine with cell phone's pictures, given it's a newer phone. Walking poles are optional, but I loved them. My gaiters and rain pants went unused the entire trip.
Hiking Clothes
Hiking Pants
2 short sleeve shirt (preferably a "technical" shirt with synthetic fibers to help keep you dry)
2 pairs of socks (in case one pair gets wet during the day, you can change socks)
upper and lower base layer
Down jacket
Sun hat
warm hat
Gloves (look for ones with Gore-Tex)
Raincoat
Rainpants
gaiters
Hiking Boots Water proof
Sunglasses
running shoes/flip flops
Gear
Backpack
Phone & Cord (doubles as camera)
Map
Sleeping bag
Water purification tabs
Water bladder (2 liter size)
Headlamp
Pack rain cover
Passport & Permits (you'll be asked for these at every checkpoint)
Cash –
Ziplock bags for organizing/waterproof
Toiletries
Toothpaste, soap and TP can be bought along the way if you want.
Toilet Paper
Soap
Toothbrush
Toothpaste
Sunscreen
Lip balm with SPF
nail trimmer
ear plugs (tea houses can be LOUD)
First aid kit with at least: band aids, moleskin, ibuprofen, antidiarrheal, tweezers
Optional
Power Plug adapter (just about every tea house had a universal outlet that fit every wall charger)
Pillowcase
Trekking poles
Real Camera & Extra battery
You'll want a small pack – no bigger than 40L likely – to fit this in. That big-ass "I fit it all on my back" pack that you carry your tent, stove, pots and pans and food for a week is too big! Here's my pack (foot for scale) and a day pack I checked at my hotel in Kathmandu with a change of clothes and other stuffs I didn't want to bring with: