Be sure to read my follow up post about trekking in Nepal after the conference!
Intro
This is post closely mirrors my trip 2 years ago to attend SANOG 27: a conference followed by some awesome tourism.
Like before I was luck to have my work send me to APRICOT 2018 and was again humbled to have my talk selected for presenting.
APRICOT is the "Asia Pacific Regional Internet Conference on Operational Technologies". It's more or less a larger SANOG meeting encompassing a greater regional area so more folks come. However, a lot of the usual suspects were in attendance (if I can get away saying that having only been to two conferences in Kathmandu ;).
Talks and Workshops
Note: All links below have full YouTube streams to watch and decks to download. Be sure to click through if you're interested in knowing more about any of them!
I attended a slew of talks, but some of highlights for me were:
Presentation
As I mentioned earlier, I was lucky enough to be selected to speak at APRICOT this year. Unlike my security based talk last trip, I was speaking about DNS and Stats this time. Specifically, my talk was title, "Visualizing a global DNS network with open source tools".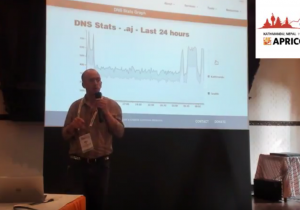 While the final, customer facing product I'm talking about (ccTLD DNS Stats) isn't live yet (it's in internal Beta), all the software I talk about is ready for prime time. Well…DNSAuth could use some love, but the other three are prime time ready, for sure ;) Those are:
Networking and co-workers
It was a real treat to go to Nepal to attend APRICOT. Like all good conferences, you meet a lot of people that you can network with. I had a lot of fun conversations! Best thing of all about going to APRICOT was that I got to chat with all my co-workers, including two I'd never met before who came all the way from Dublin and Johannesburg. Awesome!