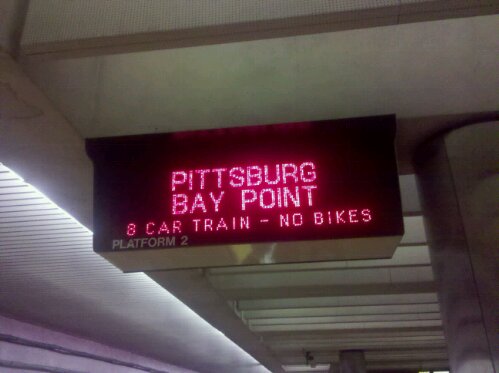 Check out this BART sign. Recently, I think, they added then bike status (none bikes during rush hour). Super handy!  However, what is not so handy is the rest of the sign info. A bit ago the signs started to show when say the next two Fremont trains we're coming :
Fremont  1min, 21min
This is not helpful. What is the use case of you standing on the platform and needing to catch a Fremont train but not the very soonest one? Right, none really, or edge case at best.
I think what would be useful would be to always have the next train arriving at the bottom of screen. Even better would be to go all CNN and have a news ticker style of the next trains. This would alleviate waiting for all the "cameras are not a guarantee against crime " messages to scroll by while you wait to see when your training is gonna arrive.
I spent a few minutes under a sign trying to count how many pixels there is to work with, but my train came too soon. I did see that there is about 9×5 per letter at the smallest font size. Any designers out there wanna take a crack at a redesign?