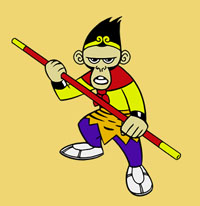 Time to kick of the "review" and "book" tag of this ol' blog here. As I just finished the OG Watchmen, I'll start with another graphic novel I read a while ago. Let me preface this by saying it is not only the best graphic novel I've ever read, but is in the top 10, possibly top 5 of the best books I've ever read. Yes, that good!
American Born Chinese is the title of this wonderful tale about a young Chinese boy growing up in the U.S. What really ties this book together are the three plots woven into it. The author cleverly works the hormone filled, acceptance seeking trials of a blonds, American teen along with the unique adventures of a newly immigrated Chinese boy oh so wisely offset with action packed, water breathing inception of a kung fu monkey demigod. Yes, one of the three main characters is a power hungry monkey demigod who does not wear his shoes on his ears, but on his feet.
There were some solid themes from the hero's journey in this novel, akin to The Alchemist, but you know, with more fisticuffs, high school brawls and kids speaking Chinese. I must say, of all the themes in this book, the ancient monkey demigod's struggle is my favorite. His plight to become the equal of the more powerful and wise god gods is chock full of morals, wisdom and humor that is right up my alley.
This book went on to win many awards. Go pick up a copy at your local, locally owned bookstore and find out why.